Real estate agents that use a dialer to follow up and explorereal estate requirement listings receive some of the best returns in the industry. That procedure is made more efficient with the use of a professional dialer. That's why auto dialer for real estate agents is what SlashRTC provides to increase their outbound calls. Our power dialer integrates seamlessly with your CRM of choice, automating every step of the conversation.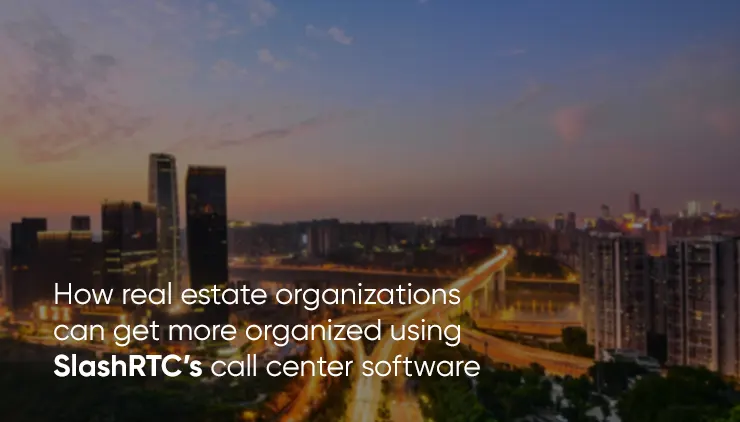 SlashRTC allows salespeople to focus on what they want to say while it takes care of the rest. If you receive a voicemail box, leave a pre-recorded message to leave a voicemail. If you receive a live response, begin your pitch right away. It's simple to log your calls into the CRM, send follow-up emails, and schedule follow-up conversations with SlashRTC.
If an auto dialer for real estate agents is what you are looking for, SlashRTC can assist you in reaching out to more consumers and closing more sales. When utilizing SlashRTC, an agent dialing manually may dial up to 30 calls per hour, which can be raised by three times. While executing an Outbound Dialing campaign, SlashRTC boosts REACH, which is the most crucial aspect for lead creation.
Do you want your sales staff to be on the phone with genuine sales leads? Not squandering money like the stray coin between your couch cushions. By phoning automatically, call center software saves time and gives your team the best opportunity to close. Following extensive study, we discovered that SlashRTC is the best option for most organizations. Its ability to integrate with your CRM and allow representatives to call from within the CRM simplifies your team's efforts and makes contacting lengthy lists a snap.
It may make a huge difference who answers the phone when a consumer calls. Assigning the call to the appropriate agent expedites the resolution of the client's concerns, allowing the agent to assist additional customers throughout the day and maintain customer satisfaction. Without the need for new gear, this is achievable with a cloud-based call centre.
We recognise that many businesses seeking call center software already have a well-developed contact list in their CRM. Why stress about your auto dialer's compatibility when you can connect it to SlashRTC and get one-click dialling and detailed call pop? While not a true auto dialer, SlashRTC click-to-dial function is a lifesaver for any company whose CRM is at the heart of their operations. Most likely, what you're already using is compatible with SlashRTC, allowing you to do more by combining the two platforms.
If your company is expanding, you could discover that using call center software might help you expand even quicker. This form of software improves your team's efficiency while also increasing income. Look for these indicators that you're ready to buy call center software.
A call centre software is a programme that assists you in managing your company's incoming and outbound telephony operations. A cloud-based call centre software may considerably assist your company by acting as a common platform for all operations such as calling, routing, reporting, and agent performance measurement. Call centre supervisors and managers may utilise call centre software to measure important call centre metrics and enhance the performance of their customer service staff, resulting in higher customer satisfaction.