Nowadays, we all wear masks when we go outside. Why? Of sure, we need to defend ourselves. Why not offer the same politeness to our Company's data?
Number masking technique in cloud communication is the superhero for critical company data.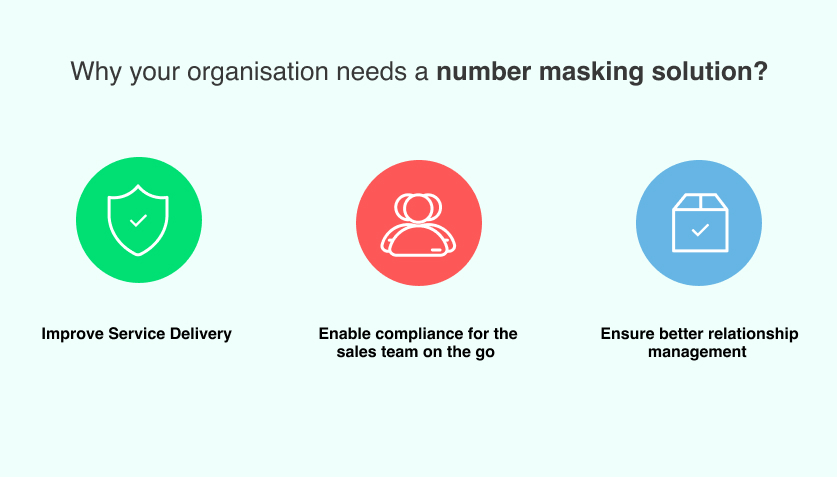 So, what exactly is number masking?
It simply refers to a technique that conceals both the business and the consumer's true contact information. Instead, a temporary number is displayed to both parties. This provides for privacy in communication while still protecting personal information. Overall, you may demonstrate to clients how much you value their data by taking proactive actions to secure it.
People frequently mix up virtual numbers with number masking. In actuality, these are not interchangeable services. Virtual or toll-free numbers are digits that are permanently reserved for an organisation and are not accessible to the public. They are adopted to be connected with the business and are heavily marketed so order to be in the minds of the clientele at all times.
Call masking, on the other hand, uses integers that are transitory and discrete for each encounter. In this system, information security is a top priority, and firms are more concerned with preserving important communication than with marketing.
Now that we've established what the service comprises, the next question is...
Why Number Masking?
Needless to say, safeguarding consumer data is critical for sustaining great client connections. Demonstrating your dependability and commitment to customers goes a long way.
Negative internet reviews or negative word-of-mouth might ruin your brand's overall image. And who wants to be affiliated with a shady organisation? Maybe you would want to be careful with a voice broadcasting campaign and sending out the right message.
Building your customers' trust will lead to brand loyalty. People are more inclined to repurchase things from reputable businesses that prioritise communication, transactions, and, most importantly, security. They are also more inclined to share the word about your products and services.
The careful management of sensitive client information is the foundation of professionalism. As a result, businesses must utilise number masking to safeguard both their employees and their customers and engage in the right provider for voice broadcasting providers.
While we recognise the need of employing security measures such as number masking for organisations, we also recognise the importance of understanding how to best utilise these features.
Here's How it Works:
Mr. A contacts X Pvt. Ltd. to inquire on the status of their order delivery. The service provider's (such as Servetel's) server maps their number to a temporary virtual number. The call is subsequently routed to the firm's virtual contact. Both parties see fictitious digits that differ from the true data.
As a result, clients do not have to worry about receiving unwanted calls from an agent at odd hours of the day.
This also works in the other direction. When your company is free of spam calls, it is able to concentrate its efforts on high-quality leads and consumers.
While security is an apparent benefit of the service, there are various more advantages:
Your trustworthiness grows, resulting in increased brand loyalty. This signals recurring purchases and favourable feedback. A positive experience often leads to peer referrals from repeat purchasers.
People trust firms that do not collect personal information about them. You may boost your brand's image and attract new customers by using number masking.
Demonstrate your professionalism by engaging in highly secure interactions.
If a call is disconnected, the customer may redial the same number to reconnect to the agent, increasing your accessibility.
Let's look at some of the call masking applications that are now in use in industries.
Interact with Drivers Assigned by Car and Bike Aggregators
Several applications offering car and bike cab services have been created in recent years. These applications, which are more necessary in the fast-paced twenty-first century, do not jeopardise the safety of both parties.
Consider this: when you order an Uber, you frequently phone the driver to confirm your meeting location or to inquire about their projected arrival time. The driver, on the other hand, may phone you to enquire about the address or to cancel the journey. The company's use of number masking prevents any security violation by the driver or rider.The temporary phone number is utilised during the transaction, but neither side can use it to reconnect.
To work with delivery agents to coordinate
We've all spent a few minutes stalking the small bike symbol on culinary apps. And as soon as the delivery person turns the incorrect corner, we feel compelled to contact them. Number masking allows you to contact the delivery person all at once, without having to worry about the security of your phone number.
To buy and sell in a marketplace
People are wary about discussing financial matters over the phone. Sellers and buyers may securely communicate about deals while being confident in the security of their information.
To Make an E-commerce Transaction Easier
A lot of sensitive consumer data is necessary to be communicated on an online or telephonic medium in all areas of e-commerce. Masking allows people to conduct their transactions freely, allowing the sector to thrive.
Several characteristics that contribute to the system's attractiveness assist the numerous use cases of number masking.
For starters, talks between staff and consumers can be recorded. While you may neither offer or receive contact information, you may still capture the important details discussed between you and others.
Second, you may get useful information on call duration, volume, and logs. This data may be analysed and worked on later.This ensures stability in contact numbers and better safeguards your data.
At the End of it All…
In the age of technology, maintaining privacy is not an easy task. Hence, it has become important to take active steps towards the same. As a company, your consumers' security is just as important as your own.
Phone number masking allows you to protect contact numbers of both parties with a temporary veil. This is the path to build a trusting relationship with clients and create the brand loyalty that your business aspires for.
Masks are on everywhere around you already. Take the leap now and join the league of secure market players.
Call 022 4249 9958 today or email info@slashrtc.com and we'll be right with you.